Building the future on tradition
The mission of Terres et Couleurs is to promote a return to local colours, encouraging in particular the use of traditional paints containing natural pigments such as ochre. "Local colours" events are part of this process. They provide an opportunity to rediscover the technical and aesthetic interest of ochre and to reconnect with tradition.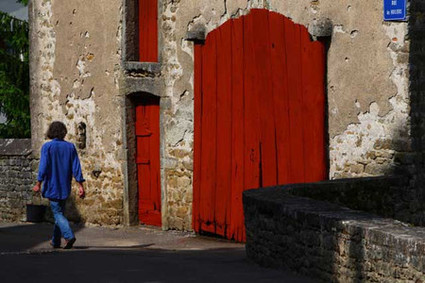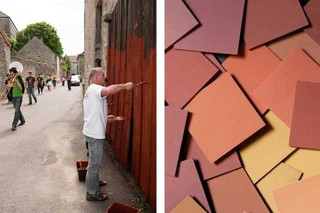 Group events in a fun and friendly atmosphere
Terres et Couleurs events help people rediscover local colours for homes and other buildings. The events involve local people assisted by professional volunteers (20-130). After an exhaustive inventory of traces of traditional paint on wood, the choice is narrowed down to three to five paints. After a public presentation, a day of painting is organised. Two coats of paint are applied by groups in a fun and friendly atmosphere.
Past and future events
Since 2006: 29 events, 11,000 kg of paint, more than 650 projects and over 1,000 participants.
Drée, Verrey-sous-Drée, Châteauneuf, Salmaise, Semur-en-Auxois, Reulle-Vergy, Echannay, Nolay, Gemeaux, Mont-Saint-Jean, Missery, Basilica of Saint-Andoche - Saulieu, Châtellenot, Wash of Ménetreux - Millery, Détain-et-Bruant, Grosbois-en-Montagne, Grande Forge - Buffon, Cussy-la-Colonne, Villeberny, Dijon, Château de Bussy-Rabutin (Côte-d'Or)
Abbaye de Reigny (Yonne)
Wash house - Saint-Amand-en-Puisaye (Nièvre)
Blesle (Haute-Loire)
Cathedral - Chartres (Eure-et-Loir)
Château-Landon (Seine-et-Marne)
Richelieu (Indre-et-Loire)
Cité de Carcassonne (Aude)
Sampigny-lès-Maranges (Saône-et-Loire)
Cathedral - Bayeux (Calvados)
Blaye (Gironde)