ochres and coloured earths
Main qualities
covering and colouring capacity: can be mixed in all liquids, no reaction with limes, silicates and cements,
not altered by ultraviolet rays,
non-toxic,
relatively low cost.
What are coloured earths used for?
paint, colourwash: 80%
Colouring concretes: 9%
Colouring cardboard, rubber, wax: 8%
Colouring snow clearance salt, agricultural use, animal feed: 3%
What were they used for?
Food dye: pork sausage skins, chocolate during the war when there was a shortage of cocoa, snuff, Gitane Maïs cigarette paper, cheese crusts, and the like.
As a medicine: desiccative and astringent properties (ferruginous substances), for stomach ache in the Middle Ages.
To clean silverware, to polish metals, mirrors, to revive the colour of terra cotta flagstones.
To protect wood from water (shutters, hulls of boats and so on).
Manufacturing of wallpapers and linoleums.
To colour rubber.
Cosmetics.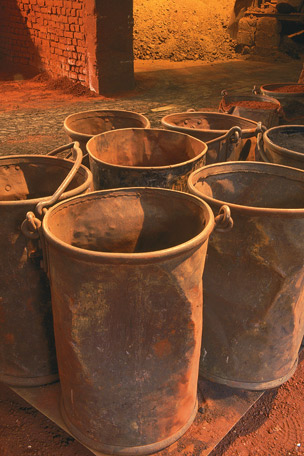 Extraction
There are two types of sites: in Vaucluse, for example, you can find open air quarries consisting of an ochreous sand cliff which contains 10% to 15 % of pure ochre, while in Burgundy the mines are about thirty metres deep and the ore is rather pure. The seam is limited by a yellow bed of clay that should not be mistaken for ochre.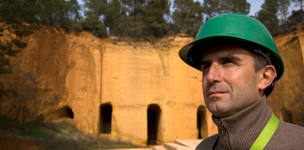 Separation
First of all the ore must go through the washing process, which is done by malaxation under running water. Sands and the impurities settle in V shape decantation drains, while the fine colouring particles, finer and lighter, move towards mud tanks.
Evaporation and drying
After drainage, the earth (known as washed earth) is left in the basins to be dried. It is then taken and cut into loaves (or brioches).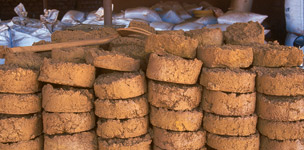 Machining and conditioning
It is fired to obtain various colours (the red is obtained by calcination of the yellow ochre), then crushed, sifted and put into bags (barrels in old times).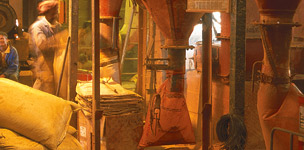 natural sienna ardennes
natural sienna italy
calcined sienna ardennes
calcined sienna italy
yellow ochre vaucluse
yellow ochre nièvre
icles ochre
havane ocre
dunkel ocre
red ochre vaucluse
red ochre nièvre
hematite nièvre
natural umber Italy cpr
calcined umber Italy aek
calcined umber Italy cccn
natural umber Cyprus hg.or
natural umber Cyprus fl.or
natural umber Cyprus b.c.or
calcined umber Cyprus b.or
yellow earth
red earth Sardinia
Rome black
red Pozzuoli
red ercolano
venitian red